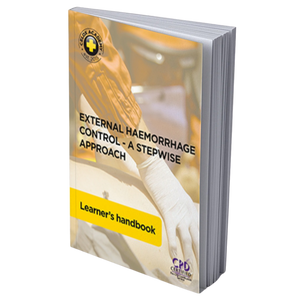 "39 per cent of pre-hospital deaths might have been preventable with the provision of basic first aid"
– Hussain, L.M. and Redmond, A.D. (1994).
"Uncontrolled post-traumatic bleeding is the leading cause of potentially preventable death among injured patients, and the bleeding trauma patient represents a significant financial burden for societies" - R. Rossaint et al. (2016)

"Education and first aid intervention could reduce mortality" - A. McNutty (2016)
This book is the latest guide on how to identify bleeding including catastrophic haemorrhage and how to manage it using a stepwise approach in a first aid situation. It provides an understanding of the circulatory system and the various types of wounds that can cause bleeding. It describes how to control life-threatening haemorrhage with the use of haemostatic dressings and tourniquets and enables best practice.
 Get your copy now.